Half of my kids are out of school for the summer and soon the others will be home.
This means the amount of cups and glasses laying around the kitchen each day will be staggering.
Last fall I saw the most brilliant idea from
Leanne
(She has amazing ideas head on over and check her out.)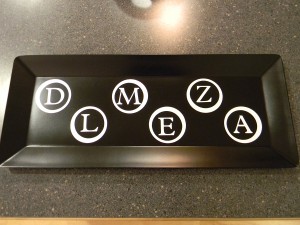 Leanne spray painted this cute plastic tray and added circles and initials.
Looks cute but it's also extremely functional.
Now every one has a spot for their glass all day.
No need to get more than one a day per person.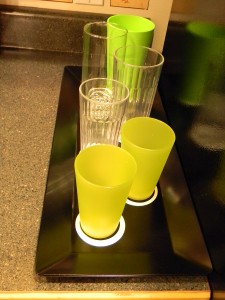 I decide to make one last fall and I'm just getting around to it!!
(I know you do your projects the moment they pop into your head.)
In my defense, first I had to find a tray the right size.
I found one early this spring when I was DI hopping.
She is not much to look at in her original dirty state,
but I like that it was metal instead of wood.
(Check out the partially filled glass just hanging out in this before picture.)
(I definitely need this.)
First I took it apart and cleaned all the pieces.
Then I spray painted the arms and little bun feet white.
And of coarse I had to distress them a little.
I put all the pieces back together.
Looking good!!
That stainless steel looks like a mirror.
Next I applied the lite yellow vinyl letters and circles.
One for all 8 members of my family.
I'm so loving it!!
It kind of has a Pottery Barn feel.
I love that it cleans up and organizes my kitchen but still looks pretty.
Thanks for the inspiration Leanne!
I'm linking up to: