Just after we finished our master bathroom remodel I entered it into the
This Old House reader Remodel Contest.
I think I entered just a couple of days before the cut off date.
A few weeks later I got a call on my answering machine from This Old House.
They said I was a finalist and asked if I could take a few more shots and send them a floor plan to help them decide.
Shortly after that I got a call saying we had won!!!!
I was so excited!!!
The kicker was we couldn't tell anyone until the magazine came out!!!
That was soooooo hard!
We are in the July Issue page 87 listed as the Best Bath Redo!
(They sent me a pdf file of the magazine page but I could not get it to upload.)
(Sorry Danielle)
We are part of the One room wonders.
It's one page with a large before and small after.
And very small picture of us.
But you can also see it on their web page
here
pages 5 & 6 .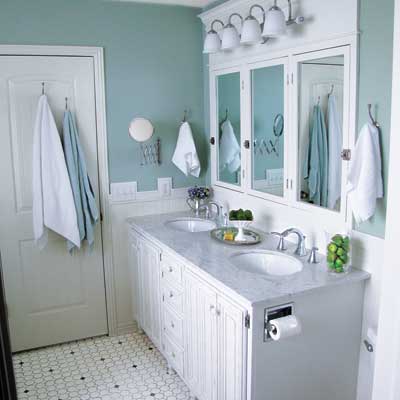 There is also a video we made
here
.
Go check us out!!!
And today our bathroom is the main picture on their
newsletter
.
So exciting!!!!
It's so awesome to be in a magazine that I just pour over each month.
What a great experience.
And the people I worked with were just great especially Danielle.
I'm so glad to be able to share this with you all,
thanks!