I finally finished window wall built ins.
Yeahhh!!!
I really struggled with what colors to paint them.
Black seemed the obvious color for a pirate room,
but I didn't want it to be too predictable.
I also wanted to work in the wood tones from the shutters I have for the window.
(Show ya that latter!)
In the end I choose a dark grey called Knights Armor by Olympic.
Which I love!!!
(OK, truth be told I color matched this at Walmart with Glidden paint that had a built in primer.)
(I am a true believer in primer, so this was a risk for me.)
(So far it seems OK, we will see how it holds up!)
The top of the window seat was laminate that looked like wood,
that stuff is tough, tougher than any paint so I opted to leave it.
(Remember this is a BOYS room!)
I then painted the counters faux wood just like the closet doors.
The laminate and faux wood matched pretty darn good!
Then we put the top shelf unit on top and trimmed it out with some small cove trim!!
So exciting.
(Did I mention I built the top section?)
(Yeah baby!)
I like this building thing!!!
I painted them grey along with everything else and distressed them.
(I lightly distressed everything.)
(Let's face it, it's a boys bedroom and everything will soon look distressed.)
(This way it all looks good!!!)
I could barely wait until I got the crown moulding up!!
It made such a difference.
Now, is a good time to mention one of my screaming deals!!!
I purchased that crown molding at the Restore.
Total cost 20 cents for 11 feet.
Enough to do both sides of the room!!!
That's about $19 I saved!
Next, I turned my attention back to the window seat.
The drawers didn't have any handles just a finger pull under the drawer.
But boys little fingers are really going to muck up those drawers fast!!
Besides the handles add so much!!
You are thinking,
"Nine handles at $3 or more dollars a piece just for looks
is not the cheap Batchelors Way.
Silly you,
I only paid 10 cent each for those at the Restore.
I saved over $26 dollars!!!
That's the Batchelors Way!
(OK, I did have to clean them up a little.)
(Below-right is what they looked like when I bought them
and the left is after I cleaned them up with a little soap and scrubbing)
I like the gold and how they look kind of old!!
My husband told me my way of placing the handles was brilliant!
(NO, I didn't pay him to say that!)
Here's what I did.
I traced one of the drawer fronts on a piece of paper and cut it out.
Then I just folded it in half each way.
I then knew where the middle of the drawer was each way.
Then I just centered a handle and traced the tips and had a template.
(See above)
I taped that template to each drawer and drilled.
The handles lined up perfectly!!!
Now if your still with me, I'll show ya some more details.
We put a reading light mounted to the front.
Originally I planned on this fixture from Lowe's for $29.96.
Very Pirate like,
but when we went to purchase it,
it seemed a little to big.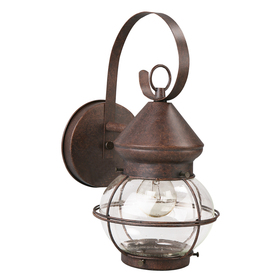 But as fate would have it,
we found two smaller sconces in a clearance section.
$9 each and much more size appropriate.
(If your doing the math, we saved almost $42 on those babies!)
The next two pictures show the shelf brackets I bought at the Restore
eight for 80 cents.
(They would have cost at least $40)
I just painted them grey before I installed them.
Now we have adjustable shelves.
The above picture shows the edge of the shelves,
top is plain
bottom is with trim added.
I wanted a chunky shelf, so I added trim.
Much better don't you think?
I have two more things we did to these built ins.
Tell ya them latter!!
Total I saved by buying at the Restore or on clearance was $127!!
Used items make wonderful products!!
I can't wait to finish the whole room.
Thanks for stopping by!!