So, it's time for another Pirate up date!
Here are some little details and things we have learned!!
We put rope lights on the inside of the shelves.
You can't see them from the front but they illuminate the inside of the shelving unit.
Les hardwired them and they turn on with a switch inside the cabinet.
They can also act like a great night light.
In true Batchelors Way fashion we used some old rope lights we had in our Christmas decorations.
(That means free!)
They were longer than we needed,
so we made a slot in the lowered ceiling of the shelf unit and shoved the excess up there.
We thought we were freaking genius'.
Until a few days after it was all installed a section of the rope lights burned out.
Crap, crap, crap!!!
Now we were going to have to take the whole thing down and re-install all those little screws and clips. I went through the rest of our Christmas rope lights only to find out they all had burned out sections.
Did I say,
crap, crap, crap!!!
So, I did the only thing I could,
I went on line to see if any thing could be done!
And low and behold I found out lovely things.
Like,
yes,
rope lights could be fixed.
So, I'll tell you what we did.
(I am not an electrician and am not telling anyone what to do.)
Rope lights have 16" to 24" inch sections.
Our burned out section was toward the end of the rope.
We marked where it was burnt out,
unplugged it and then cut it.
The rest of the string still works.
(You can buy splicer kits and add a new section into the middle of a rope light.)
We just put the cap on the end pulled the excess rope down and it was fixed!!!
If there is no cap anyone touching the end section while it's plugged in will get a shock!
I was so amazed and relieved not to have to unscrew and take out the hole rope light and replace it!!
Now that we have all been enlightened,
lol
I'll show ya the trimmed out doors.
I chose to paint all the trim,
except the ceiling trim, grey like the built ins.
I'm getting excited now!!
(You may notice I faux painted the room side of the door to match the closet doors.)
(The other side is white so all doors in the hallway match.)
More on my detail freakishness...
The pirate side has an oiled rubbed door knob and the hallway side is silver.
No,
I didn't buy two sets.
I bought the silver and had an old oiled rubbed one.
And they just happened to fit together!!
Last of all is another Restore to the rescue.
I bought these shutters at the Restore for I think $4 each,
we cut them down to fit the window.
I love the deep rich wood tones against the grey.
They came with hinges, but as we got into it we realized they wouldn't work.
So we bought these simple black decorative hinges from Lowe's.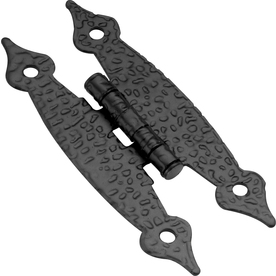 They were only $2.56 for a set of two.
We needed four sets for a total of $10.24.
Not too bad.
But then one day while digging through old hardware at the Restore
I found a ton of these old hinges with Pirate character oozing out of them.
And they were like 10 cents each!!!!
That's 80 cents for them all.
After returning the simple black hinges to Lowe's,
we saved almost $10
and added tons of character!!!!
(See the "L" shaped hinges two pictures above)
I then spent the next 30 minutes digging out 8 hinges and 56 matching screws!!
I know I must be crazy!!!
But it's totally worth it to me.
It's all in the details.
Did I mention I'm a detail freak?
Well, we are almost done with the Pirate room.
I'll post next about the building of the beds,.
Before I go I'll show ya this ice bucket I picked up at DI for two bucks!
I'll leave you to see if you can figure out how I used this on the beds!!!
Thanks for stopping by!