Finally, I'm ready to get these chairs dressed!!!
I mentioned earlier that I looked around a lot for material I liked and could afford.
(That's always my problem.)
I mean, the material I found that I did like was like $42 a yard. That would cost me over $330 dollars for just the material. I kept searching. I wanted something a little heavier so it would last awhile. I finally found this great tan and cream tweed at Walmart for...
.....wait for it.....
$3.00 a yard!!!
I bought the whole bolt, which was slightly over 8 yards.
Yes, I was doing back flips.
(OK I really can't do a back flip, but I was doing them in my mind!)
That's $25 for all the fabric for both chairs.
With my material in hand I was ready to get these chairs put back together.
Here is where your pictures will come in handy.
I started in reverse order!
The last piece I took off was the first piece to go back on. For these chairs it was the seat. For all pieces I used the original fabric piece as a pattern, only I cut it two or more inches bigger. For this seat I had to actually sew two pieces together before I could staple it to the chair. As with all pieces, take your time and pull it, smooth it, and cut where you need to in order to get a great fit.
Next,
I was ready for the inside of the arms.
I did not reuse the old decorative nails. I purchased these bronze furniture nails from Lowe's. Total for the chair was about 12 boxes.
But they were only $1.30 a box.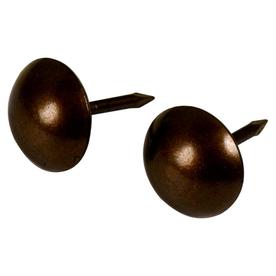 These were not easy to get put in a nice line. Mostly because I was not working on a flat surface, due to the batting. But I kept cursing trying. These decorative nails were all that were used to hold the material in place so I had to get it right. I finally found that using needle nose pliers to hold the nail until it was at least half way in helped a lot. Make sure you use a rubber mallet. Tip number two came from my husband even though I told him it wouldn't work, I found it did! He suggested I use a small block of wood to gently tap the nail head to the side after it was in place to get it too look more in line with the others.
After that came the scary shell back. I had to unpick one piece, cut a new one, and then sew it in place, right through the burlap base. Then I would put the batting back in, flip the new fabric over the batting, and start all over with the next piece.
Sewing these pieces was very hard because the whole thing was connected to that burlap base. But I pushed and pulled it through ten times for each chair back.
Once I had worked my way, one piece at a time, across the back it was ready to go on the chair. I put it in place and started tucking and pulling. Don't start stapling until you get it where you want it. I started stapling at the top, and then the bottom, and then the sides.
Can I just say that about now I was beginning to think that I just my pull this off.
The back was actually looking like the original.
The front called for this thin cardboard piece which is often called panel board.
You can buy this new, but I flipped mine over and reused it.
The back was actually three pieces that I had to first sew together.
After the cording was stapled on I used some more panel board across the top of the back. Then I had to tuck the sides in and sew them by hand. I've had this curved upholstery needle that some one gave me years ago and I was finally able to use it. I would have never pulled that needle back out with out it being curved!!
Finally, I used a piece of brown lining to cover the underside of the chairs. I tacked one side and then the opposite side. Once it was smooth and all in place I screwed the wooden trim pieces back on.
Next time I'll show you the cushion saga and the finished chair!!
Thanks for stopping by!