In our last house in Arizona we installed a built in ironing board.
It was a complete kit that came as a unit. You just cut a hole in the wall and slid it in.
I loved how it would just fold up into the wall.
Fast forward to now.
Remember this cabinet we cut down and set into our current laundry room wall?
It's just deep enough to store the iron, so we totally planned on using one side for storage and one side for a built in ironing board!!
We figured we could just build one, yeah peace of cake!!
That was an awesome plan until it came time to build the ironing board mechanism because I wanted it to be able to drop down and swivel.
There aren't many DIY plans out there, but
I did find this
one
at Lumber Jocks.
It was kinda hard to piece together (not really a step by step) and I could see the pictures on google search but not within the article.
(I had to guess which pictures went with which instructions and I never could find all of the pictures!)
With not much else to go on, I printed it out and went for it, one painstakingly step at a time.
I started by drawing out my basic ironing board on a piece of 1/2" MDF. I made it to fit my cabinet, 12" wide by 36" long. I used a bowl to make the nose of the board and a straight edge to make the angle. Once I was happy with it I cut it out with my jig saw.
Then I needed to make it swivel. My instructions, if you could call them that, used some sort of nuts and bolts. I found this 6 inch Lazy Susan swivel at Lowe's for $6.97. This seamed like a better option.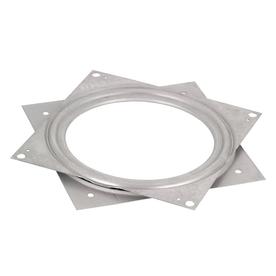 I started by cutting out a U shaped board out of 3/4" MDF.
(Mine was 12" x 11 1/2")
Then I attached the Lazy Susan swivel.
This sounds complicated, but isn't too bad if you do it one step at a time.
1. Mark the center of your U shaped board with a straight line down the center
2. Mark the center of each side of the Lazy Susan swivel with a marker.
3. Place the swivel matching the center marks with the center line.
4. Turn the top portion of the swivel so that two points line up with the center line making sure the point doesn't extend past the edge of the board.
(See photo below)
5. Mark the four big holes and four small holes.
6. Take off the swivel and drill 3/4" holes on your 4 small marks all the way through the board, and pre-drill the four larger marks for your screws.
6. Now mark the center of your ironing board and line up and place the swivel mechanism on it with the small dot side down. Once you have it where you want, turn it so you can mark the small dots and predrill small holes.
OK stick with me, I know this is already a little hairy.
7. Now attach the swivel mechanism to the U shaped piece, big holes down. Use short screws. You may need to add a small washer if your screw head is too small.
8. Rotate the swivel and place it and the U shaped board down on the ironing board. Use the 3/8 inch holes to look through and line up your marks with the small holes in the swivel mechanism.
9. Put your screws down through the big holes and tighten the screws. You really need a magnetic screw driver to accomplish this. Don't worry if you don't have one,
(or just can't find yours ANYWHERE!)
You can create a temporary one by adding magnets to the shaft of your regular screw driver.
(See photo below)
Works like a charm!!!
That was hard to put into words!!!
I hope it makes sense!!
But that gives you a swivel ironing board, I will show you how to install it next time!!!
Thanks for stopping by!