Here we go, first project for Em's Glam Room!!!
What is it?
Her closet!!
Yes, she already had one, but it just had one rod and shelf!!
OK maybe that doesn't sound too exciting, but it sure helps keep a room cleaner when the closet is more user friendly!!
Our house came with builder grade bi-fold doors on the closets. After having kids, I have come to loath bi-fold closet doors!!!
The kids seem to fall into them or lean on them and I don't know what else. Anyway, the track ends up bent and no matter how hard I try I can not get the track straightened out. Thus the doors are always coming off the track and swinging out into the room.
I finally had it!
Les and I took them down and decided to convert them to sliders.
We took the hinges off the bi-fold doors and laid them out on a flat surface (the kitchen table).
We then took stiff metal straps that we bought at Lowe's for a few cents each and attached them with small screws. We attached one across the joint at the bottom, one across the top, and two on the back; one at the bottom and one at the top. Now the two doors were firmly attached together as if it was one door.
We bought a 'Bi-pass Door Sliding Closet Door Track Kit' from
Lowe's
. Ours was a 48 inch kit which only cost $11.98. We installed it according to directions and tada, we had sliding closets doors.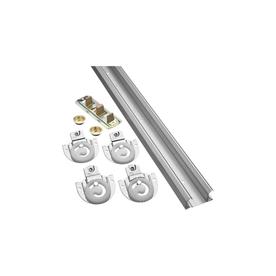 Once the doors were fixed I set out to make a plan for the new closet innards.
I wanted a double decker hanging space, a tall hanging space, and lots of shoe cubbies
(teenage girls have lots of shoes!!)
I also wanted to use as much of the existing closet parts as I could. I only ended up having to buy 3 boards and a wooden closet rod.
Sweet!!!
The main tower was the first part I built. I cut all my pieces and then painted them.
It is so hard to paint all those individual cubbies; painting flat boards is the only way to go!!
To assemble it, I put the two side boards together and marked where all the shelves would go with painter's tape. By taping across both boards I was sure that my marks would be lined up. I quickly cut the tape with a sharp utility knife before separating the boards. I attached all the shelf boards to one side and then the other. Being careful to line up the shelves with the painters tape.
I used a square to draw lines on the sides to ensure I nailed in the center of the shelves.
Once the tower was built, I cut out the base board and shelf support, so the tower would slide in place. Then I put Em to work filling holes so I could give the hole thing a final coat of paint.
I reused the shelf supports and added shelves. One long hanging section, and two shirt hanging sections. I installed the wooden rods, caulked, touched up any paint one last time, and she was done!!
She is a beauty is she not?
So organized!!!
Am I the only one who thinks organized things are pretty?
Anyway, Em loves it!!
(
It's literally Em's favorite thing in her room!!
)
What do you think?
It works so much better than one bar and shelf!!!!
Be back soon for another update on her room!
Thanks for stopping by!!
I am linking up: